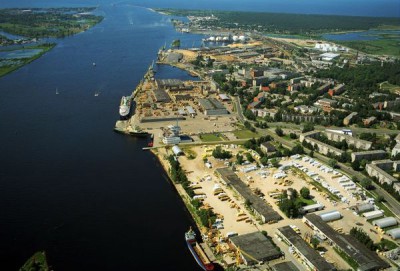 Handling of exports, imports and transit cargo at the terminals of Latvia based Free Port of Riga  in January-February 2015 increased by 4.7% compared to the same period last year, to 6,83 million tonnes, the Port Authority statistics said.
Coal shipments in the reporting period rose 12.9% to 2,550,500 tonnes, scrap metal volumes jumped by 49.6% to 129,100 tonnes. At the same time handling of petroleum products fell by 3.6% to 1,833,700 tonnes, of wood pellets – by 20.6% to 80,800 tonnes, handling of ore dropped by 8.3% to 45,300 tonnes.
Container traffic increased by 3% to 63,167 TEUs. The number of passengers carried to / from the port shrank by 40.6% to 61,352 people. There were no cruise passengers in January-February.
Riga, Latvia based Free Port of Riga lies on both banks of the River Daugava (Western Dvina), The port encompasses 6.348 hectares, including 13,818-meter waterfront with berths max depths of 16 meters (ship draft – 12.2 m). Transit cargoes account for 80 percent of overall freight traffic moved to / from the CIS countries. In 2014, cargo throughput at the Port of Riga totaled 41,08 million tonnes.
Source: http://portnews.ru/news/196080/
Similar Posts:
Russian seaports' eight-month throughput rises 5.7% to 468.5 million tonnes
In January-August 2016 Russian ports handled 468.5 million tones of cargo, which represents a 5.7-percent growth on the same period of 2015, Rosmorrechflot said. The increase was driven primarily by a

Throughput of Port Saint-Petersburg down 8% to 8,099,600 t in Jan-Feb'15
In January-February 2015, transshipment of dry bulk cargo totaled 1,203,500 t (+17%, year-on-year) including 1,066,500 t of mineral fertilizers (+17%), Baltic Sea Ports Authority says. Transshipment of general cargo fell by

NCSP Group cargo turnover for 8M 2015 grew 2.6% to 92.6 mln t
NCSP Group hereby reports that its consolidated cargo turnover for 8M 2015 comprised 92.6 million tonnes, up 2.6% or 2.3 mln t year-on-year. Transshipment of liquid cargo comprised 72 005 thousand